SOCIAL MEDIA / NETWORKING TIPS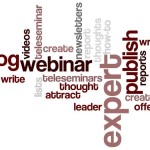 January 18, 2013 By Marc 6 Comments
To be taken seriously in your industry or niche, you MUST provide your audience with the content they need…
Because, if you can help solve your target market's pains, problems and challenges they will follow you, join your mailing list, comment on your blog, spend money with you, buy your products and become your raving fans…
There is MUCH MORE to this than I'm able to tell you in this blog post, but I can tell you that it comes down to this key ingredient…
Personal Development
January 29, 2014 By Marc 6 Comments
houghts have power, are under your control, and can be used wisely or unwisely. Accurate thinkers accept no type of thought, until it is carefully analyzed. Clear thinkers are the masters of their emotions.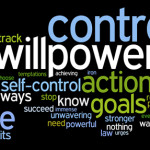 September 15, 2013 By Marc 50 Comments
Your ability to develop the habit of self-discipline will contribute more to your success than any other quality of character.
Self-discipline is the ability to get yourself to take action regardless of your emotional state.
Self discipline requires getting out of your comfort zone and expanding your thoughts and your horizons. In order to produce different results, we must grow. In order to grow, you must first have the desire to learn.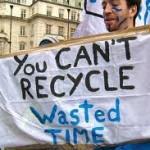 September 2, 2013 By Marc 32 Comments
Time management is no easy task. A good time management plan will actually take time to develop and implement. However, be aware that even though you spend much time planning and managing your use of time, it will prove to be an effort that will pay dividends to you…
June 30, 2013 By Marc 16 Comments
"Mentoring is a brain to pick, an ear to listen, and a push in the right direction." ~ John C. Crosby What is mentoring? Mentoring is simply the process of getting alongside people to support them in their personal, spiritual or professional development. The Mentoring process takes many forms and there are many types of [...]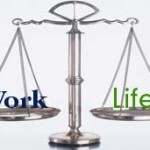 May 23, 2013 By Marc 31 Comments
There is no perfect answer to the key question of  how to achieve life/work balance in our lives, but there are a number of ideas and actions that can help you to do more in the areas that are important to you. These ideas often require changes and modifications in the way you think and [...]
MLM TIPS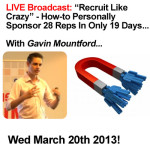 March 19, 2013 By Marc 1 Comment
IMAGINE personally sponsoring 28 Reps, building a team Of183 people & growing a monthly residual income Of$2,732.81 in only 19 days using nothing but the Internet..
…& then helping your TEAM members do the same…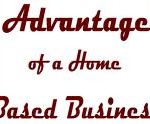 February 9, 2013 By Marc 2 Comments
Learn How To Save More Money By Starting A Home Based Business Presented By Dr. Ron Mueller Are Taxes KILLING YOU Financially? YOU can STOP the BLEEDING — NOW! The BIGGEST "Economic Relief" in America goes to HOME-BUSINESS OWNERS! In fact, our government will actually PAY YOU to run your own Home-Based Business!!! WHY? Small [...]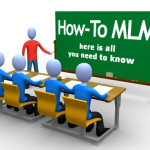 September 8, 2011 By Marc 13 Comments
So, you have joined a Network Marketing Company and you are excited about the potential to build a thriving business. Hopefully, you have a supportive team and Company and there is a plan in place that you can duplicate. If so, now is the perfect time to consider what ACTION you have to take during the first 30 days to develop an income.
January 30, 2011 By Marc 3 Comments
"We may be very busy, we may be very efficient, but we will also be truly effective only when we begin with the end in mind." ~ Stephen R. Covey Here is a great nugget from one of my favorite Network Marketing legends…Tom "Big Al" Schreiter "I am too busy." We all have 24 hours [...]