"I can no other answer make, but, thanks, and thanks."  ~William Shakespeare
I would like to thank all of my friends and business partners that I have worked with over the years for their heartfelt comments and testimonials.
Marie Northrup

James Bennett, Mastermind Facilitator, Internet Marketer, and Personal Development Coach, Mastermind with James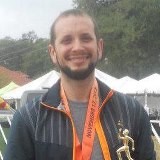 Marc is an amazing personal development coach and network marketing mentor. I've gotten to know Marc through our internet and bloggers community and I've really been inspired with his ability to connect with others and convey the message of self-improvement. What I noticed up front is that Marc does 3 things really well: 1. He knows how to build relationships, both online and offline. Marc is genuinely interested in the people he works with and offers to help others with no expectation of receiving something back. He is a true relationship creator; whether it's with customers, clients, business partners, or anyone else that he comes in contact with. Marc knows how to be a great contributor for our community and holds a position of influence and leadership in it. 2. Marc teaches and sets the example for creating change in your life. Marc is a change leader. His message is consistent across all communication: Continuous education and Continuous Improvement. There is nothing more important in his view when it comes to your success. 3. Marc communicates in such a way that in the midst of many discussions, he will stand out. Whether it's in person, over the phone, during our Mastermind sessions, or in print through his blog posts; Marc knows how to deliver a message that will make people think differently. It's been a pleasure getting to know Marc, through our internet community first, and now in a more personal setting during our weekly mastermind groups sessions. If you are looking for a leader, someone to help you grow, someone that can help you start a new business, or someone that will help you create success; then I highly recommend you take Marc up on his word to be your success coach
Raena Lynn, Social Media Consulting, The Social Network Marketer…
 "I cannot emphasize enough, the value that Marc Korn brings to our network marketing community and TSA (Tribe Syndication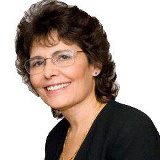 Association). He is definitely a go-giver. He is professional in all his dealings and is one who I, along with all his colleagues, know they can depend upon him, no matter what the circumstances. Marc is extremely knowledgeable in all areas of mentoring, coaching, network marketing, personal development, and social media. I instantly recognized him as a leader and he is a team player and great supporter of anyone who is in need of guidance. His title of Network Marketing Coach/Continuous Learning Advocate fits him perfectly. Marc is diligent, persistent and is very detail oriented. His work is always complete and polished. He consistently provides excellent high quality content on his blog and it is a pleasure working with him. I have the greatest respect for Marc because of his work ethic, values, and integrity.
Ruth Konig, Social Media Specialist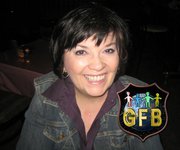 Marc is an exceptional person & I would STRONGLY RECOMMEND him as a business partner because of his attention to detail, quality guidance & his exceptional mentoring skills & ability to gently, effectively guide people through the phases of leadership which make him a true leader. Marc has a true presence out in the social media arena & is not just online submitting information on "how to be an expert" in the arena. This presence makes Marc a "credible" social media expert. I for one am glad to be a friend & business partners & I know you would greatly benefit from your association with Marc.
William Earl Amis Jr III., Dedicated Member, TSA
"Marc, is a detailed researcher, and has proven to be a amazing supporter of others. He has demonstrated unlimited activities, that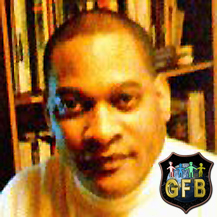 have accomplished so much for others personal development. Marc, is an outstanding Coach and Mentor in our industry. He has established global connections, to enhance his superior talents for provinding real hands on support, for all who have had the honor of being under his mentorship. Daily support is provided if needed. I recommend Marc, as the person you would want to develop a lifetime friendship and partnership. If your starting or involved in a business and need that real transparency, with a supportive person. Look no further than Marc Korn. An ethical and honest passionate supporter of the people. No matter where you came from. He takes himself out of the equation. It is only about you with Marc. What you determined as success he will listen and work with you for the correct steps to reach unlimited goals. I am not only a partner, I concesider we have created a real bond of trust. His devotion resonates around you. There is no better way to learn than with a real passionate heart. Marc Korn has that and more. Get with Marc to save you pain and expenses.
Katri Remes, Assosiate, SMD – Smart Media Technologies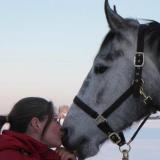 I have become to know Marc thru the great platform of Monitium and we are working in the same Team (Global Freedom Builders). I can sincerely recommend him as a business partner. He is enthusiastic, sound, knowledgable and very supporting. He is a true Team player.
Ben Sides, Independent Business Owner, Monitium
Mark is a true leader with a servants heart. He is always helping others to build their business and is a great teacher. His expertise in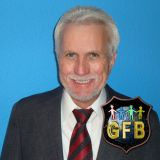 online marketing is second to none. I would recommend Marc to anyone who would like to learn online marketing.
Irene Berney, Owner,Coach and Mentor, Global Freedom Builders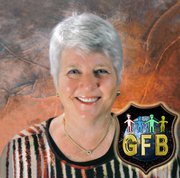 I met Marc about 4 years ago, and it has been a successful ride from day One. Marc is a Team Player, Great Mentor, Teacher, Successful Blogger, Caring person, Sharing his knowledge, Friend and Intelligent human being. Marc finds time to help! Having Marc on a Team and working with him has been a great pleasure! Marc is one of my 5! Marc is a gentle, organized, enthusiastic, goal oriented, patient, and a supportive Team player. What I really appreciate from Marc, is his patience and quality time he gives to people, who want to learn the skills in networking. Marc is a person I would like to have on my team, I highly recommend him as a teamplayer, I have great respect for him. I believe in Marc! Marc has been an exceptional Mentor for me, with clear visions and goals. Marc is a Leader with a passion of helping others. A true Team player. Get to know Marc Korn, and you will understand what I just shared."
Barbara Harnsberger, Coach and Mentor, Success in Network Marketing
Marc Korn is a wonderful leader in this industry. He is a great asset to our Team and a good friend. Marc has a lot of knowledge to share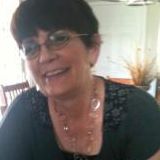 with all. Marc is a person you need to get to know.
Asa Puide, Network Marketing Training Coach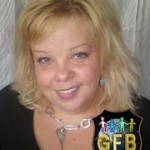 Marc is a person with great knowledge and incredible skills which he generously shares with the people that he connects with. Nobody has taught me so much about blogging in such a short time as Marc. He is not only talking the talk. He knows what works and what does not. He has walked the walk.He is a one of a kind guy with knowledge and care that can help millions.
Leslie Watson Leake, member, TSA
Marc is a very compassionate partner, always putting his team members needs before his own. I have never met someone who is shows
such leadership by boosting his teams achievements day after day! Nice working with you Marc!
Donna Merrill, Internet Marketer & Coach

Marc is a true go-giver and leader when it comes to his blogs. Following him for over a year, each and every week, I can truly say that he has given me so much education from his blogs and is a true go-giver. Marc is a business oriented man and following him has helped me in my own business.   ******************************************************************************
See what other Networkers are saying about Marc…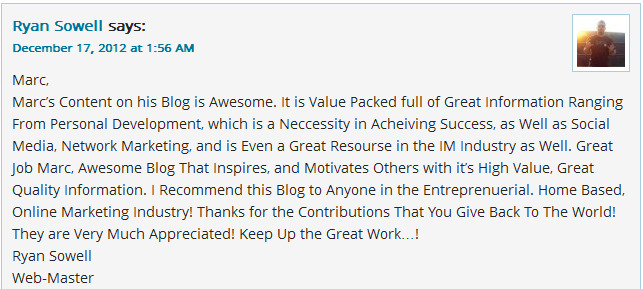 I welcome your testimonials if you feel that I have offered value to you currently or in the past. You can leave a testimonial on this page below or visit my LinkedIn page and leave a testimonial..
I invite you to LIKE my FaceBook Fan Page
T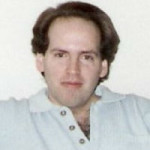 o your success,
Marc
Marc@mlmsuccessmentoring.com
Network Marketing Coach
Continuous Learning Advocate
Skype: healthysuccess
(973) 879-1627