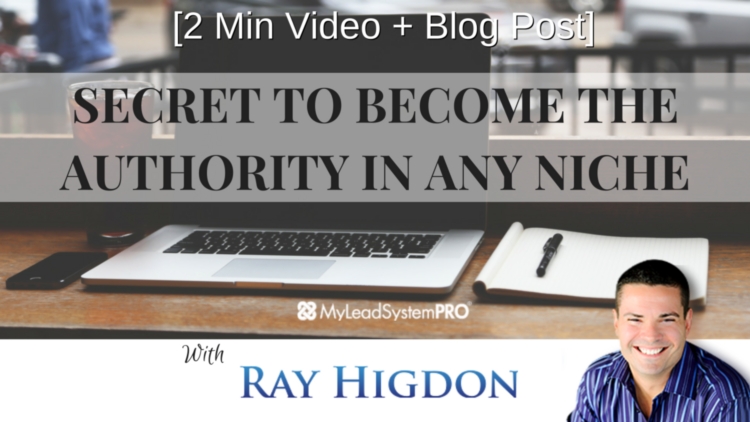 Have you ever wondered what it would take to become an authority in your niche or any niche?
Well it is NOT as difficult as you may think and once you are able to accomplish that task, you are well on your way to turning your blog into a valuable piece of property that can actually create the financial and time freedom you have been searching for.
If you are not familiar with Ray Higdon then you have probably been asleep at the wheel for quite some time.
Ray is not only a top Industry income earner, but he is one of the foremost bloggers in the world.
Ray (a 7-fig blogger) processes 40-73 plus transactions PER DAY, from his blog, on auto-pilot…
That's whether he creates a blog post, or not.
How's that for a "lifestyle" business?
So, if you want to generate leads and make money from your blog, Ray is someone you want to listen to and then implement what he teaches.
Last Wednesday, I attended a webinar with Ray and he revealed: "5 Simple Ways to Use Blogging to Build Authority & Become a Top Earner"
One of the most important of those 5 ways is to TEACH… we will reveal the other 5 ways in our next post or you can watch the replay of the webinar, but ONLY until Wednesday, Nov. 11th
As per Ray, "The biggest thing: Become a Teacher. The fastest way to become an Authority in any niche is to TEACH… start sharing what you are learning with your audience by creating valuable content via your blog.."
Below you can watch a special 2 minute video where Ray reveals his biggest secret to becoming an authority…
 If you resonate with what Ray has to say, then you will want to be sure to
watch the webinar replay before it is removed
on Wednesday, November 11th and get some of the best training that you will ever receive…
Plus, you will discover how to Get Instant Access to Ray's Revised "3-Min Expert Blogging Program – Attraction Marketing Edition" for a Limited Time!
( along with some AMAZING Bonuses )
I hope this information helps you and if it does, PLEASE share with your friends and business associates.
Till next time…
Here's wishing you massive success in all that you do…
If you are interested in learning how you can take YOUR business to the next level by practicing Attraction Marketing techniques, PLEASE feel free to reach out to me.
I hope you got some great value out of this post today! Please leave me a comment down below and let me know what you liked the most.
And don't forget to share this post with your Twitter and Facebook friends and followers!
I invite you to LIKE my FaceBook Fan Page

To your success,

Marc@mlmsuccessmentoring.com
Network Marketing Coach
Continuous Learning Advocate
Skype: healthysuccess
(973) 879-1627
P.S. – We had a VERY special webinar last Wednesday, November 4th with 7-Figure Blogger Ray Higdon. He gave us his exact 5-Step Formula to Become the Authority in ANY niche even if nobody knows who you are right now.
If you missed that awesome webinar, we have a treat for you...we have a replay…
The only problem is we're removing this from the internet this Wednesday, Nov.11th
You DON'T want to miss this…check it out now and see how you can get a FREE 30 day trial for MLSP Sites…
Are you looking for a program that offers Top Level Mentorship and a complete training curriculum that will allow YOU to brand YOURSELF and stand out from the crowd ?
This is an exclusive invitation to partner with our amazing team and support community on the very best branding and training platform on the planet..
If you're tired of struggling and you want the fastest track to success and a business that makes you REAL money….
1) Click Here to see what all the TOP marketers are doing to generate
more leads and get more sign ups in their business.

2) Click Here to start your NO Obligation 10 day trial…


About Marc Korn
Marc Korn is an advocate of continuous learning. Success online and in the offline world is all about training and learning from the experts.... throughout history the common denominator among successful people has been continuing education.Marc is passionate about Network Marketing and helping others.He has learned that Network Marketing is not about recruit, recruit, recruit or sell, sell, sell...but about people.The most gratifying way to achieve success is to help others become successful first.Marc enjoys introducing people to systems and opportunities that will help them to earn additional income working from home.There is no reason why you need to learn it all by yourself. Join Marc and his Tribe mates to see how they can help you.