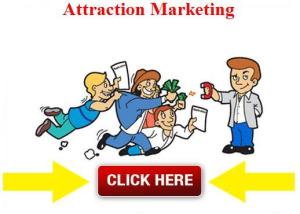 Let me ask you a question…
Would YOU rather CHASE after prospects OR have Targeted Prospects CHASE after YOU ?
Well, if you are a SMART Marketer and I'm sure that you are, then you would much rather have your raving fans and prospects CHASING after YOU…
So, how do YOU make that happen ?
If you prefer to watch the video and listen to the audio rather than read the post, feel free to check out the video below…
Well, as an Attraction Marketer I am here to tell you that it all starts with VALUE…
You MUST become known as a Marketer who provides VALUE upfront and NOT a Marketer who is ONLY concerned with pitching your Business Opportunity.
When you provide VALUE and show a genuine interest in others FIRST, you will have followers who WILL learn to Know, Like and Trust YOU and then you will have prospects coming to YOU and asking what you do?
They will ask that because they WILL want to join YOUR business and work with YOU.
Remember: People join people and NOT Companies.
So, it is important to learn how to connect and communicate with your friends and prospects no matter what Social Network you are on.
If you ASK the RIGHT questions, you WILL learn a lot about your prospect and start the relationship building process.
Remember: "People don't care how much you know until they know how much you care"
If you follow that simple rule, you will have MUCH better results than if you lead with YOUR opportunity.
So, when you are chatting, texting or speaking to your prospect, don't be concerned about making a sale.
Be concerned whether or not there is a sale to be made…
And you do that by asking questions and showing genuine interest and don't worry about "what's in it for me"
If you are interested in learning how you can take YOUR business to the next level by practicing Attraction Marketing techniques, PLEASE feel free to reach out to me.
I hope you got some great value out of this post today! Please leave me a comment down below and let me know what you liked the most.
And don't forget to share this post with your Twitter and Facebook friends and followers!
I invite you to LIKE my FaceBook Fan Page

To your success,

Marc@mlmsuccessmentoring.com
Network Marketing Coach
Continuous Learning Advocate
Skype: healthysuccess
(973) 879-1627
Are you looking for a program that offers Top Level Mentorship and a complete training curriculum that will allow YOU to brand YOURSELF and stand out from the crowd ?
This is an exclusive invitation to partner with our amazing team and support community on the very best branding and training platform on the planet..
If you're tired of struggling and you want the fastest track to success and a business that makes you REAL money….
1) Click Here to see what all the TOP marketers are doing to generate
more leads and get more sign ups in their business.

2) Click Here to start your NO Obligation 10 day trial…

About Marc Korn
Marc Korn is an advocate of continuous learning. Success online and in the offline world is all about training and learning from the experts.... throughout history the common denominator among successful people has been continuing education.Marc is passionate about Network Marketing and helping others.He has learned that Network Marketing is not about recruit, recruit, recruit or sell, sell, sell...but about people.The most gratifying way to achieve success is to help others become successful first.Marc enjoys introducing people to systems and opportunities that will help them to earn additional income working from home.There is no reason why you need to learn it all by yourself. Join Marc and his Tribe mates to see how they can help you.