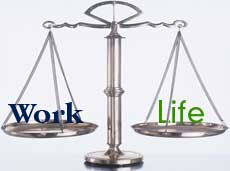 There is no perfect answer to the key question of  how to achieve life/work balance in our lives, but there are a number of ideas and actions that can help you to do more in the areas that are important to you. These ideas often require changes and modifications in the way you think and use your time, but the price is well worth it and will give you more peace of mind.
How To Achieve Life Balance:
1. Know Yourself.. means knowing what you really value, knowing what is really important to you.  It is critical for you to organize your life around yourself, rather than to organize yourself around the demands of your outside world.
2. Time Management.. after you have determined your values and the goals that are congruent with those values, you must set your priorities. Make a list of all the tasks that you can possibly do and then select from that list the things that are most important to you.
3. Use Your Time Wisely.. Most people are time wasters.  They waste their own time, and they waste your time as well.  To be successful and happy, you must discipline yourself to work all the time you work. Don't allow yourself to waste your valuable time or you will be rushing in order to complete the necessary tasks and this will just add stress to the work day.
4. Have a Plan.. By having a plan, you can follow your progress and decide whether you are achieving your desired goals. Without a plan, you will just end up busy and exhausted.
5. Create Deadlines for Projects.. focus on tasks that follow your plan and help you get closer to your ultimate goal.
6. Ask For Support.. Tell your boss, family, friends, colleagues, and anyone else involved in your life that you are looking to achieve a better work-life balance. Tell them what your plan is, and ask them to respect it.
7. Concentrate On One Thing At A Time.. Don't  try to take on too many tasks at once. It's very difficult to focus on multiple things at the same time. you will be better served to concentrate on the task at hand. When you are working, work. When you are spending quality time with your family, make them your priority.
8. Be Positive and Surround Yourself With Positive People.. Associate with positive people and don't tolerate negativity.
If you can't see the positive side of any situation, try harder and from a different perspective until you see the situation in a positive light. Two great techniques are 'positive self talk' and 'visualization'.
Family Matters:
9. Build Solid Relationships.. Have you created business and personal relationships? Your interaction with family and friends will replenish your personal happiness and energy. Protect these relationships, as they are very valuable and irreplaceable assets.
10. Have a Family Dinner Together As Often As Possible... Despite what you may be doing, dinner time is the ideal time to talk about  the events of the day and will forge the family bond.
11. Be Present and Pay Attention.. When you are at home with our family, be present with your family and make them your number one priority.
12. Saturday and Sunday Family Time.. Take a break from work and make the most of your weekend. Spend weekends with your kids and spouse and have fun and create memories.
13.  Take a Vacation…You Earned It.. It is very important, if you can manage it, to take at least two weeks off from work per year. It doesn't matter what you do or where you go, but you do need to recharge your batteries in order to be the best possible YOU.
Try not to turn on your laptop or phone and just relax and enjoy your time away from work.

14. Attend Every Event.. Never miss an event. Make sure to be present for ALL important family occasions and events.
Don't Neglect Your Spouse:

15. Engage Your Spouse..  This is your life partner, so include your spouse and ask for feedback on important issues and situations at the workplace. Let your spouse know that their opinion is important to you.
16. Help Is On The Way.. If you are working and away from the house and your spouse is home, show them that you can still help to ease their burden. Be sure to obtain services of others to make your spouse more relaxed and energized. Get the help that is necessary.
17. Communicate Frequently.. Talk about the things that matter most in your relationship. Celebrate your successes, but don't forget to communicate about your frustrations, too. It is all part of a marriage.
Time for yourself:
18. Spend Some Quiet Time.. Carve out at least 15- 20 minutes a day when you can have some quiet time and feel at rest. This will help you to feel refreshed and will also give you the emotional energy for the other important people in your life.
19. Turn Off The Noise.. studies show that watching too much T.V. creates depression. It is a passive activity that won't give you energy. So, with the television off, you can take time out of your day and do something for YOU! It could be a favorite hobby, reading a good book, listening to music, etc.
20. Learn The Value Of Saying "No"… Don't give in and agree to every request or demand that comes your way. If it doesn't fit into your schedule or align with your priorities, don't overwhelm yourself by taking on more.
21. Rest and Relaxation.. It is important that you get enough rest and relaxation to give your body time to repair itself and give your mind time to re-focus and unwind.
22. Get Enough Sleep.. We all know that if we don't get enough sleep, we get grouchy and irritable and perhaps don't perform as well the next day. But, a good night's sleep allows our body time to repair and time to maintain our muscles and vital organs. Go to bed a half hour early and get up a half hour early – this allows you to carve out additional personal time.
23. Regular Exercise Routine.. Exercising is a must for busy executives and entrepreneurs. Repetitive exercises tend to be the best to help de-stress, such as using a treadmill or eliptical machine. Exercise tires your body giving it the signal to go to sleep to repair itself.
Tip: Don't exercise immediately before going to bed as your metabolism will still be pumping. Leave at least 2 hours between exercise and bedtime.
24. Reward Yourself.. After challenging yourself to focus on your work-life balance, don't forget to reward yourself for making an effort to change. Give yourself a treat and you will feel proud every time you look over at your reward and be motivated to keep your new healthy habits.
25. Revisit Your Plan On A Regular Basis.. Make sure to check your plan often to make sure you are working smart and on the right path. Plans are a guide and are not carved in stone.
Evaluate your work-life balance on a regular basis..
Achieving work-life balance is a never-ending journey, and your needs will be different at different times in your life.
Being able to achieve life/work balance will help you get more out of life. Take a pro-active approach to making life choices that you can be proud of.
*** Please SHARE your favorite tip in the comments below. Please SHARE by adding your own suggestion for achieving a work/life balance and help our list to grow, which in turn will help more people to achieve their own balance.
I hope you got some great value out of this post today! Please leave me a comment down below and let me know what you liked the most.
And don't forget to share this post with your Twitter and Facebook friends and followers!
I invite you to LIKE my FaceBook Fan Page

To your success,

Marc@mlmsuccessmentoring.com
Network Marketing Coach
Continuous Learning Advocate
Skype: healthysuccess
(973) 879-1627
Are you looking for a program that offers Top Level Mentorship and a complete training curriculum that will allow YOU to brand YOURSELF and stand out from the crowd.
This is an exclusive invitation to partner with Ann Sieg and The Daily Marketing Coach.
If you're tired of struggling and you want the fastest track to success and a business that makes you REAL money….
1) Join Us On A Webinar To Learn More About Daily Marketing Coach
2) Just Join Daily Marketing Coach Now And Get Started   ( Get the 1st month for just $9.97 )

About Marc Korn
Marc Korn is an advocate of continuous learning. Success online and in the offline world is all about training and learning from the experts.... throughout history the common denominator among successful people has been continuing education.Marc is passionate about Network Marketing and helping others.He has learned that Network Marketing is not about recruit, recruit, recruit or sell, sell, sell...but about people.The most gratifying way to achieve success is to help others become successful first.Marc enjoys introducing people to systems and opportunities that will help them to earn additional income working from home.There is no reason why you need to learn it all by yourself. Join Marc and his Tribe mates to see how they can help you.