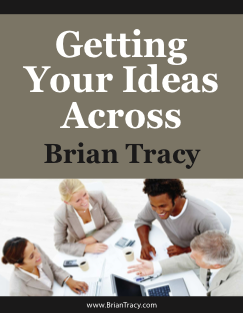 "Communication is a skill that you can learn. It's like riding a bicycle or typing. If you're willing to work at it, you can rapidly improve the quality of every part of your life." ~ Brian Tracy
In my daily work life, I am a customer service specialist, which these days entails customer retention and developing customer loyalty more than anything else. Regardless of your profession, communication is an essential part of your day. From calming down irate customers to negotiating with clients to giving instructions to employees, your communication skills determine your success. Communicate well and you'll sell your ideas more effectively, deal with disputes better, and run more efficient organizations. Communicate poorly and you'll leave conversations wondering if anything was accomplished at all.
Today, I would like to offer you a complimentary copy of a terrific special report by Brian Tracy.
Brian has studied people for over 30 years, and in that time, he has discovered something pretty incredible:
It doesn't matter if you are rich, poor, or in between, fully 85 percent of what you accomplish – in your career and your personal life – will be determined by how well you get your message across and by how capable you are of inspiring people to take action on your ideas and recommendations.
To help you become more skilled at sharing your message, Brian Tracy has developed a brand new special report, "Getting Your Ideas Across."
According to Brian, if you can communicate your message effectively, your future is unlimited.
The thing is, so many people don't communicate effectively – even those people who think that because they're blessed with the gift of gab, they are great communicators. Often, getting your idea across has nothing to do with how well you can make small talk. It has everything to do with how well you communicate.
Because so many people overlook the difference – and because communication is a skill you can learn – "Getting Your Ideas Across," is my free gift to you, to help you begin making rapid progress toward your goals.
In this special report, Brian shares ideas, techniques and skills you can use to accelerate your progress toward power communication.
When you read "Getting Your Ideas Across" you learn:
2 major myths about communication and why they may be causing you to do the exact opposite of what you should if you want to communicate effectively
The 2 key components of communication – and why, if you're missing either one, you're not communicating effectively
The 3 elements in direct, face-to-face communication (all of these must be congruent in order for effective communication to take place)
An easy, simple way to double the effect of what you're saying
2 things that are much more important than the words you choose when you're trying to get a message across
Why so many people distort the message and miss the point, and what you can do to stop this from happening when you're speaking
When you become known and respected as an effective communicator, people respond to your messages much more quickly and willingly. That is the secret of effective communication.
Once you begin implementing these techniques and strategies right away, you'll notice a difference in the way people respond to you. And you'll enjoy the results!
Remember, 85% of what you accomplish is based on how well you get your message across. How well do you communicate yours?
I encourage you to Download and Read Your FREE Report  today, and begin Getting Your Message Across  that will lead to better opportunities, and therefore, success.
Here's to getting people to take action…
I hope you got some great value out of this post today! Please leave me a comment down below and let me know what you liked the most.
And don't forget to share this post with your Twitter and Facebook friends and followers!
I invite you to LIKE my FaceBook Fan Page

To your success,

Marc@mlmsuccessmentoring.com
Network Marketing Coach
Continuous Learning Advocate
Skype: healthysuccess
(973) 879-1627
Are you looking for a program that offers Top Level Mentorship and a complete training curriculum that will allow YOU to brand YOURSELF and stand out from the crowd.
This is an exclusive invitation to partner with Ann Sieg and The Daily Marketing Coach.
If you're tired of struggling and you want the fastest track to success and a business that makes you REAL money….
1) Join Us On A Webinar To Learn More About Daily Marketing Coach
2) Just Join Daily Marketing Coach Now And Get Started   ( Get the 1st month for just $9.97 )

About Marc Korn
Marc Korn is an advocate of continuous learning. Success online and in the offline world is all about training and learning from the experts.... throughout history the common denominator among successful people has been continuing education.Marc is passionate about Network Marketing and helping others.He has learned that Network Marketing is not about recruit, recruit, recruit or sell, sell, sell...but about people.The most gratifying way to achieve success is to help others become successful first.Marc enjoys introducing people to systems and opportunities that will help them to earn additional income working from home.There is no reason why you need to learn it all by yourself. Join Marc and his Tribe mates to see how they can help you.