"Success is not something you chase or run after. Success is something you attract." ~Jim Rohn
So, what is your approach in your Network Marketing Business?
This is a very important question to ask yourself and evaluate if you want to maximize your full potential.
If you want to experience rejection free selling, then you will want to incorporate the Consultative Approachinto your network marketing training.
To succeed with your online business, you will need to be consistent and persistent and understand that it is a PROCESS and NOT a race.
It IS NOT all about pitching and selling..
Attraction Marketing evolved as a way to build relationships based on trust and not about recruit, recruit, recruit or sell, sell, sell…but about people.
You build people and people WILL build the business.
What Is The Consultative Approach In Your Network Marketing Business?
It's about attracting vs chasing: attracting through valuable information and education and becoming someone of value to your prospects.
It comes from an inner desire to help people find real solutions to their problems. It involves changing your focus from selling your product or service to being a true and trusted solutions provider.
To do that, you need to first understand your customer's needs.
"What kinds of things are they looking for, thinking about, and concerned about?"
"What are their needs and some problems YOU can solve?"
The biggest mistake sales people make is to present a solution without really understanding their customer's needs and point of view. When you really understand your customer's needs, you not only build trust, but you gain the information you need to present a more customized solution.
The best way to uncover your customer's needs is through meaningful dialogue and asking questions.
Another proponent of the consultative approach is Ann Sieg.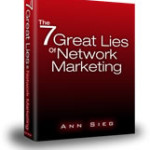 Sieg is one of the pioneers of internet network marketing, and the author of the groundbreaking free report, The 7  Great Lies of Network Marketing
Ann Sieg helps remove the stigma associated with selling. In traditional MLM, we are taught that we're not selling,   it's all about sharing. This reduces the fear of rejection because sharing sounds much less threatening to people than selling.
The result is that most network marketers aren't taught how to properly sell.
Ann shows us how to sell in the most effective way and that is NOT through brute force, but  through a more subtle strategy.
Again, the starting point is to ask lots of questions and show a genuine interest in learning about people.
Drill down to uncover their core emotional desires. This gives you valuable information and you need that information if you want to provide the proper solution for your prospect. The added bonus is that at the same time, you are building a relationship based on trust.
In The Renegade Network Marketer, Ann Sieg shows us what a professional marketing system looks like, and how most Network Marketing companies don't provide the proper systems for their members.
You also learn how to use your marketing to attract qualified prospects to you. "A prospect who comes to you is infinitely more qualified than anyone you could ever approach yourself."
Ann teaches us who we should target and how the best people to go after are the prospects who already have an interest in our business and/or products and are actively searching for information about it.
And finally, you will learn how to attract these people to YOU!
So, now we come back to the Consultative Approach because the best way, actually the only way to do this effectively is for YOU to become a solutions provider.
Regardless of what you are selling, the bottom line is that you are looking to provide solutions to people's problems and obstacles.
The consultative approach is an effective technique that encourages  interaction with a prospect in order to determine a prospect's challenges and then providing a solution to meet those challenges.
The solution might be YOUR network marketing product, opportunity or possibly an Affiliate product that you believe in.
So, I hope you can see that the Smartest course of action is to incorporate the Consultative approach into YOUR Network marketing business starting today…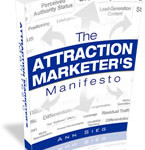 The truth is that attraction marketing has become such a sought after method of doing business, that Ann Sieg  offers a free  report called Attraction Marketer's Manifesto that shows you what attraction marketing is all about and how to do it properly. 
It is a must read for anyone serious about creating a successful online business.
Here's What To Do Next…
1) Download Ann's FREE Attraction Marketer's Manifesto

2)  Get Your Free Network Marketing Report! …. The 7 Great Lies of Network Marketing

3) Click Here To Learn More & Find Out How To Attract People Yo YOU!
I hope you got some great value out of this post today! Please leave me a comment down below and let me know what you liked the most.
And don't forget to share this post with your Twitter and Facebook friends and followers!
I invite you to LIKE my FaceBook Fan Page

To your success,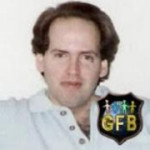 Marc@mlmsuccessmentoring.com
Network Marketing Coach
Continuous Learning Advocate
Skype: healthysuccess
(973) 879-1627
Are you looking for a program that offers Top Level Mentorship and a complete training curriculum that will allow YOU to brand YOURSELF and stand out from the crowd.
This is an exclusive invitation to partner with Ann Sieg and The Daily Marketing Coach.
If you're tired of struggling and you want the fastest track to success and a business that makes you REAL money….
1) Join Us On A Webinar To Learn More About Daily Marketing Coach
2) Just Join Daily Marketing Coach Now And Get Started   ( Get the 1st month for just $9.97 )

About Marc Korn
Marc Korn is an advocate of continuous learning. Success online and in the offline world is all about training and learning from the experts.... throughout history the common denominator among successful people has been continuing education.Marc is passionate about Network Marketing and helping others.He has learned that Network Marketing is not about recruit, recruit, recruit or sell, sell, sell...but about people.The most gratifying way to achieve success is to help others become successful first.Marc enjoys introducing people to systems and opportunities that will help them to earn additional income working from home.There is no reason why you need to learn it all by yourself. Join Marc and his Tribe mates to see how they can help you.