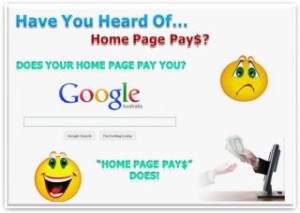 "To the degree we make our invitation inviting, it will be to the same degree that our prospects will want to be invited." ~Michael S. Clouse
Smart Media is set to be the next global technology giant with the most advanced branding system in the world.
We are very proud and excited to announce that we will very soon be introducing our Home Page Pays system. Firstly, we need to explain the meaning of a "Home Page".
This is the web page you arrive on when you open whatever web browser you are using, be it Internet Explorer, Firefox, Google Chrome, Safari or our own Smart Media Browser. For instance, many people have their home page set to the Google search engine.
Does Google pay them for using it as their home page?
No!
Home Page Pays is the next evolution in our Web application. The Home Page Pays system takes what we started with our previous version to a whole new level and it is revolutionary. NO other company in the world has this technology.
Company CEO, David Martin, has designed and developed banking platforms & digital banking security systems over the last fifteen years. This is the same programming team that was used to create the patent-pending Smart Media Desktop system, which took over 3 years and millions of dollars to develop. It is no wonder that this software is technically far superior to most other software in the world.
For the first time ever in the Direct Sales industry, there is a technology company that actually has world class software needed by over 2 Billion people worldwide.
The Smart Media Desktop is a complete revolution for Internet Users and Marketers.
It is also a revolution in the direct sales industry.
The fact that Smart Media Technologies custom world-class back office contains the most powerful cutting-edge features in the industry is also no surprise as it was designed by a team used to creating mission-critical enterprise technologies over the last 12 years.
All of the company's websites, squeeze capture pages as well as the outstanding "back office" – real time genealogy tracking, accounting, robust e-wallet and voucher system – were created "in-house" from the ground up by this exceptional team.
Watch this brief video to get an idea what Home Page Pays has in store for you..
[youtube]http://www.youtube.com/watch?v=AeMvosNnpf0[/youtube]
What's in it for the Free Member?
We are paying the Free Members to use it… people just set it as their Home Page and Get Paid!
Free members will also have chances to win great prizes!
The Free Member will be paid 10% of the advertising revenue on their personal usage! They DOUBLE their money by adding "Home Page Pays" to their web browser and they can have whatever home page suits them, be it Home Page Pays, Google or any other website!
* It is designed to be instantly accessable to Free members with nothing for them to Download or Install
*Works on any PC and Macintosh computer
* Can be used with any web browser
Not only that… we have taken almost all of the content of the
Smart Media Desktop
and made it available in this sensational web application without the necessity to do a download, giving members a treasure trove of incredibly useful and entertaining resources on the site for free.
No other site on the Internet gives free members this much great content.
This includes:
Visual Bookmark system in cloud that can be accessed from ANY computer
FULL Smart Library and My University educational videos
Entertainment section and Video Games
Free software section
Bargain Shopping Finder
Rate a Site
Central hub for Social Networks and communication tool
And more!
Smart Media Business Model
Our model is based on the same proven system that Yahoo, Google, You Tube, Facebook, Twitter and Skype all use; they give away a valuable free service to the global community. All these companies are household names and theirs is a proven formula for success.
In fact, our goal is to enable our Representatives to be able to offer the most valuable free system ever for:
For a detailed explanation:
==> Go to your SmartMediaTechnologies.com website
1. Watch the video on the Product page then…
2. Watch the Demo on the Demo Page then…
3. Watch the video on the Opportunity page
You will then realize why we are about to become one of the hottest businesses on the Internet and that right now you have a fantastic window of opportunity to take advantage of great timing.
It is very unlikely that any of your contacts have already heard about Home Page Pays. This is about to change and the only question is…
Are you going to tell everyone you know or will they be telling you?
I hope you got some great value out of this post today! Please leave me a comment down below and let me know what you liked the most.
And don't forget to share this post with your Twitter and Facebook friends and followers!
I invite you to LIKE my FaceBook Fan Page

To your success,
Marc@mlmsuccessmentoring.com
Network Marketing Coach
Continuous Learning Advocate
Skype: healthysuccess
(973) 879-1627
About Marc Korn
Marc Korn is an advocate of continuous learning. Success online and in the offline world is all about training and learning from the experts.... throughout history the common denominator among successful people has been continuing education.Marc is passionate about Network Marketing and helping others.He has learned that Network Marketing is not about recruit, recruit, recruit or sell, sell, sell...but about people.The most gratifying way to achieve success is to help others become successful first.Marc enjoys introducing people to systems and opportunities that will help them to earn additional income working from home.There is no reason why you need to learn it all by yourself. Join Marc and his Tribe mates to see how they can help you.