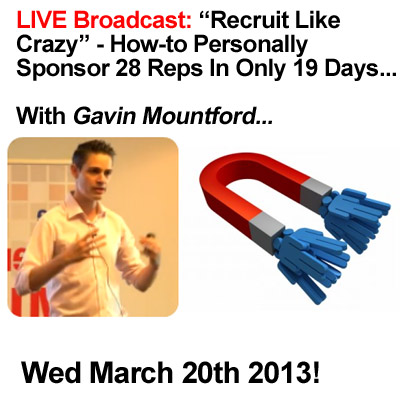 IMAGINE personally sponsoring 28 Reps, building a team Of 183 people & growing a monthly residual income Of$2,732.81 in only 19 days using nothing but the Internet..
…& then helping your TEAM members do the same…
Well you can too, once you MASTER the five (5) step formula for recruiting like CRAZY…
Join us on the upcoming 'Recruit Like Crazy' Webinar on Wednesday, March  20th, 2013…
Places are limited, so sign up today and reserve your spot!
>>> Click Here To Register For The Webinar
Name of Webinar: Recruit Like Crazy
Date: Wednesday, March 20th, 2013
Time: 5pm Eastern | 9pm GMT
Here's what you'll learn:
The exact 5-step formula Gavin Mountford used to sponsor 28 reps, build a team of 183 people & grow a monthly residual income of $2,732.81 in only 19 days… (you can do this too…)
The 'KLT Formula' – Implement the 'KLT formula' in your marketing, & prospects will INSTANTLY flock to you to join your business… (get this right and it's EASY to make money)
How to get your hands on done-for-you blog posts, emails, Facebook status updates, webinars and copywriting ALL designed to help you make multiple streams of cash online…
A ONCE in a LIFETIME income opportunity – take ACTION fast to position yourself at the front of this incredibly powerful wave… (find out ONLY by being on the webinar)
>>> Click Here To Register For The Webinar
I hope you got some great value out of this post today! Please leave me a comment down below and let me know what you liked the most.
** And don't forget to SHARE this post with your Twitter and Facebook friends and followers!
I invite you to LIKE my FaceBook Fan Page
To your success,

Marc@mlmsuccessmentoring.com
Network Marketing Coach
Continuous Learning Advocate
Skype: healthysuccess
(973) 879-1627
P.S. What would happen to your LIFESTYLE if you were earning multiple sources of income from the Internet?
If possible, SKIP whatever else you've got going on Wednesday to attend…
Go here now to register…
>>> Click Here To Register For The Webinar
About Marc Korn
Marc Korn is an advocate of continuous learning. Success online and in the offline world is all about training and learning from the experts.... throughout history the common denominator among successful people has been continuing education.Marc is passionate about Network Marketing and helping others.He has learned that Network Marketing is not about recruit, recruit, recruit or sell, sell, sell...but about people.The most gratifying way to achieve success is to help others become successful first.Marc enjoys introducing people to systems and opportunities that will help them to earn additional income working from home.There is no reason why you need to learn it all by yourself. Join Marc and his Tribe mates to see how they can help you.