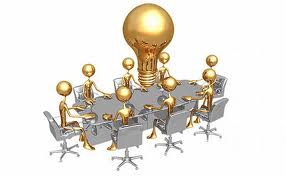 "Create a definite plan for carrying out your desire and begin at once, whether you ready or not, to put this plan into action." ~ Napoleon Hill
Since the publication of   Think and Grow Rich
in the 1937, the idea of mastermind groups has grown and evolved to become a must have tool of successful individuals.
The benefits of having a supportive mastermind group are many…
You have a group of people available to offer SUPPORT to help you succeed…
A MasterMind group offers a safe environment for you to share your dreams and discuss your challenges.  Each meeting allows all participants to interactively share and get ideas from fellow members. This allows you to express new ideas you have to your MasterMind group and get valuable feedback.
The group encourages you to grow and reach your goals much faster than if you go it alone.
You get the benefit of differing perspectives, input and feedback….
When you join a MasterMind Group you will gain from the expertise of others. The members of the groups each come with their own knowledge and experience in certain areas, which allows you to obtain information that may be a struggle to obtain. It also allows you to help others with areas in which you are an expert.
Your Mastermind team can bring resources and connections to the table you might not have had on your own….
When you join a Master Mind Group and Network, you will meet amazing and creative people who can add value to your personal and business life. The people you meet in your group can become lifelong friends as well as future business partners. Colleagues may be able to introduce you to other entrepreneurs who are interested in doing joint ventures with you.
You receive accountability and inspiration from the group, enabling you to maintain focus on achieving your goals.
It can be easy to get side tracked with everyday life in addition to your daily routine business responsibilities that may prevent you from taking the daily action steps you need to grow your business.
When you belong to a Master Mind Group, you will be held accountable to take action and to provide updates of your progress. You are also expected to attend the weekly calls. When you know you have to report your progress, it motivates you to perform the required action, which will move you closer to achieving your goals.
There are many other reasons that you may want to join a Master Mind Group. It may help you to remain focused, it may be to meet like-minded people or it could be just to learn and grow. Whatever your own personal reason, the group will allow you to connect with people that can help you succeed.
Miracle of the Mastermind
The Mastermind process was discovered over 100 years ago by the richest man in the world, Andrew Carnegie. He boasted that he could put one of his teams anywhere in the world and they would be successful. Carnegie learned that by bringing like minded individuals together for the achievement of common goals, they could accomplish anything regardless of the challenges. An effective MasterMind group allows members of a program to achieve success five times faster than on their own. That's because you can learn from the collective knowledge of your other group members.
A miracle occurs when the same six or more people get together every week. They meet in a safe haven for creativity and shared learning. Each member supports and encourages each other to achieve the goal of their own choosing. The meetings are hosted by a leader who guides the lesson and permits equal opportunities for each participant to contribute to the conversation. The magic begins when all members start working together to achieve their dreams. It cannot be described- it can only be experienced.
The right program adheres to a set of ethical guidelines which require a positive and constructive tone at all times. To further strengthen the bonds between members of the group, each person is paired up with an accountability partner. The pace is flexible, and the application of principles can be adapted to each individual's unique style of learning.
You don't have to try to make it happen all alone. In fact, working alone almost never works. You need the support of people around you. You need to surround yourself with the right people!
Imagine a powerful group of entrepreneurs gathering with you every week online to help you stay focused and constantly moving toward your dreams. Being involved in a mastermind group gives you the power of the pack…..You Are No Longer The Lone Wolf! Let the pack watch your back!
Now, you have the chance to Experience the Power of a Mastermind Group!
Listen to and Experience a Recorded Live Mastermind Call or join us for a Live MasterMind call.
==> Register Now For a Live MasterMind Call or Immediate Access To A Recorded Live Mastermind Call
Why should I Listen-In To a MasterMind Call?
For those that attend the webinar LIVE, you will have the chance to interact. But, the goal of the Listen-In approach is to introduce people to the power of the "interactive MasterMind" and the dynamics and synergy created when a group of like minded individuals come together for the greater good.
There are many people out there that have never attended or been part of a MasterMind call and have no idea of the POWER and POTENTIAL.
When YOU hear the success lessons of Napoleon Hill and "Think and Grow Rich" and part of the curriculum that includes 110 of the very best elements of Hill's body of work, you will start to see how it can effect your OWN life and see yourself participating.
Sometimes potential participants like the idea of being able to just Listen-In to get a feel for what it is all about in a non-threatening way…
I hope you got some great value out of this post today! Please leave me a comment down below and let me know what you liked the most.
And don't forget to share this post with your Twitter and Facebook friends and followers!
I invite you to LIKE my FaceBook Fan Page

To your success,
Marc@mlmsuccessmentoring.com
Network Marketing Coach
Continuous Learning Advocate
Skype: healthysuccess
(973) 879-1627
NOTE: We've all been hearing about the magical Power that a MasterMind group can bring to your life with the acceleration of your personal power. Research has shown that every successful person during the history of our planet has incorporated the Power of the MasterMind to accomplish their chief aim in life. Let us help you to determine your

Definite Major Purpose

and help you to achieve it.
==>  Click Here To Discover the Secret to Riches in Life
About Marc Korn
Marc Korn is an advocate of continuous learning. Success online and in the offline world is all about training and learning from the experts.... throughout history the common denominator among successful people has been continuing education.Marc is passionate about Network Marketing and helping others.He has learned that Network Marketing is not about recruit, recruit, recruit or sell, sell, sell...but about people.The most gratifying way to achieve success is to help others become successful first.Marc enjoys introducing people to systems and opportunities that will help them to earn additional income working from home.There is no reason why you need to learn it all by yourself. Join Marc and his Tribe mates to see how they can help you.