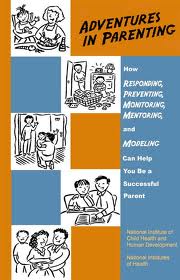 "Don't worry that children never listen to you; worry that they are always watching you." ~Robert Fulghum
Parenting is the toughest, most important job most people will ever encounter. However, there is no license or training required. Unfortunately, the cost of bad parenting is huge. Thankfully, it is very easy for parents to learn the skills of good parenting in addition to all of the pitfalls of bad parenting. All it takes for parents to learn more about parenting is to watch, listen, and learn.
Watching…is a key ingredient in learning more about parenting.
Watch other parents around you and you can learn all sorts of lessons. You will learn how to interact with your child, how to discipline your child, and how to teach your child. Almost everywhere you take your child there will be other parents and their children. When you watch, you must not only observe, but listen. Hear the tone of voice as well as the words those parents use. Some parents use the right words but their tone and physical manner suggests the opposite.
Watch the children and observe their response. Some children respond more positively to their parents.
What is different about that parent-child relationship ?
What can you learn to assist you with your relationship with your own child ?
Please watch the following video from Parenting Advice and Help… By Parenting Coach Dr Randy Cale
[youtube]http://www.youtube.com/watch?v=HLRzOHZ2bV0[/youtube]
Listen to advice…
You don't need to take every piece of advice that is offered to you. After all, there are many parents who are free with advice and it is obvious that they are in no position to offer suggestions.However, there is often some really good advice shared by people you know and trust. In addition, you can receive good advice from casual acquaintances. Be a sponge…
Keep your ears and eyes open.
You don't have to take that advice but keeping your options open gives you the opportunity to decide for yourself what information you can benefit from.
Be an active learner…
Seek out information when you face a parenting challenge. As your child grows older and learns, some of your old parenting or discipline techniques no longer work. Search the internet, browse through parenting books, and ask some experts in your circle of friends. Sometimes great advice will be readily available, but other times you will have to search for that advice. The more proactive you are about finding solutions to your parenting problems then the better parent you will become.
Parenting is a challenging job…there is no job more challenging.
But, the rewards cannot be matched. There are times when parents are forced to take an unpopular stand or make a difficult decision. But, if you are a good parent and develop solid parenting skills, the rewards will far outweigh the challenges. Those rewards include a happy, successful child and a warm, loving relationship that will extend long past childhood and span the rest of your life.
So, do we really need special training to be a good parent ?
If you watch, listen, and learn then you can be the parent you want to be and your child deserves.
Click Here To Download your awesome Personal Reflection Exercises
I hope you got some great value out of this post today! Please leave me a comment down below and let me know what you liked the most.
And don't forget to share this post with your Twitter and Facebook friends and followers!
I invite you to LIKE my FaceBook Fan Page

To your success,
Marc@monitium.com
Network Marketing Coach
Continuous Learning Advocate
Skype: healthysuccess
(973) 879-1627
Learn The Secrets To Raising Super Kids from Brian Tracy
About Marc Korn
Marc Korn is an advocate of continuous learning. Success online and in the offline world is all about training and learning from the experts.... throughout history the common denominator among successful people has been continuing education.Marc is passionate about Network Marketing and helping others.He has learned that Network Marketing is not about recruit, recruit, recruit or sell, sell, sell...but about people.The most gratifying way to achieve success is to help others become successful first.Marc enjoys introducing people to systems and opportunities that will help them to earn additional income working from home.There is no reason why you need to learn it all by yourself. Join Marc and his Tribe mates to see how they can help you.