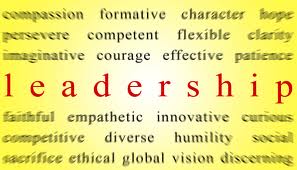 "Leaders must be close enough to relate to others, but far enough ahead to motivate them." ~John Maxwell
How to Become Strong Leader
A leader is not born.
A leader is created and the whole process starts inside the most dangerous place you'll ever encounter – your own mind.
How can you become a strong leader who inspires others, drives people toward excellence, holds people accountable, and instills a sense of trust? Learning what makes a great leader is your first step.
One of the greatest challenges of leadership is actually defining what leadership is.
There are literally thousands of books, documents, and speakers that have each defined what their view of leadership is. There are examples for corporate leadership, civic leadership, home leadership, and more. When we attempt to break down leadership, we actually make it more complicated than it is.
When we break it down to the basics…leadership is an individual achieving results through people.
In many instances you are considered a leader if you hold a particular title, exhibit a certain set of personality traits, a particular skill set, or maybe you are considered to be a born leader.
Taken separately, none of these define leadership. Just because someone is in a leadership position, DO NOT assume they actually exercise leadership. In some cases the informal leader exhibits leadership even though they aren't in a leadership role
Here are some things you can do to become the leader you've always wanted to be:
1. Control yourself. Every great leader in history has had to become a master of self-discipline and willpower in order to stay focused on the big picture. If you don't have a goal or the drive to achieve it, you can't lead others to attain theirs.
• Follow through in everything you do. As challenging as it may be, you need to be disciplined enough to be where you need to be, when you need to be there, whether you want to or not. By being strong in your resolve and resisting temptation to give up, you are setting an example for others to live up to.
• Choose your emotional response to a situation carefully. Sometimes you'll need to practice the art of silencing your inner thoughts when they're not appropriate in order to set a positive example.
2. Project your goals If the people you're leading don't completely understand the deeper meaning in their work, they won't share your vision or work ethic. Every step of the way, communicate with your team to make sure they're on the same wavelength and know what you expect of them.
• Get your team involved in the planning process and the implementation of your ideas. This gives everyone a greater sense of ownership toward the end result.
3. Praise highly and criticize constructively. The way you praise and criticize others can make all the difference in being able to lead effectively.
• Make sure you publicly praise the people who do excellent work for you. You'll give the person a sense of accomplishment and the drive to do even better.
• When someone does something wrong, offer constructive criticism and do it privately. Suggest solutions on how they can improve and take the time to answer any questions. They'll accept your input more willingly if they know it's done to help and not to harm.
4. Know your people. You can't truly lead a group of people unless you truly understand their hopes, dreams, struggles, pains, and goals. All the good intentions in the world mean nothing unless you have a true sense of the people you're working with.
• Talk to your team and get to know them. Getting to know each other on a personal level will strengthen the bond between you. They'll want to do better for you because you're more than just a "boss."
• Be their leader, first, and their friend second. You're their leader and that means that you have to make difficult decisions from time to time. These decisions cannot be affected by personal relationships.
5. Make the hard call. There are times when you have to bite the bullet and make some unpleasant decisions. Firing, demoting, and holding people accountable for their actions can be very hard at times. As a leader, it's your responsibility to handle these matters.
Please watch the following video by John Maxwell, best selling author, and dynamic speaker on leadership and business management. Dr. John C. Maxwell is committed to developing leaders of excellence and integrity by providing the finest resources and training for personal and professional growth.
[youtube]http://www.youtube.com/watch?v=NjX5SOF0X5E[/youtube]
Regardless of where your leadership role takes you, believe that you can be a strong leader. Remember that in order to lead others, you must be disciplined yourself. After all, your actions will speak louder than anything you can say.
In order to gain the respect of others, strive to lead by example in every area of your life.
When you follow these simple guidelines, you'll be well on your way to becoming a true leader!
Hope you got some great value out of this post today! Please leave me a comment down below and let me know what you liked the most.
And don't forget to share this post with your Twitter and Facebook friends and followers!
I invite you to LIKE my FaceBook Fan Page

To your success,
Marc@monitium.com
Network Marketing Coach
Serial Entreprenuer
Skype: healthysuccess
(973) 879-1627

Visit Brian Tracy International
About Marc Korn
Marc Korn is an advocate of continuous learning. Success online and in the offline world is all about training and learning from the experts.... throughout history the common denominator among successful people has been continuing education.Marc is passionate about Network Marketing and helping others.He has learned that Network Marketing is not about recruit, recruit, recruit or sell, sell, sell...but about people.The most gratifying way to achieve success is to help others become successful first.Marc enjoys introducing people to systems and opportunities that will help them to earn additional income working from home.There is no reason why you need to learn it all by yourself. Join Marc and his Tribe mates to see how they can help you.